HAAGE Distillation Analyzer DA 30.15 W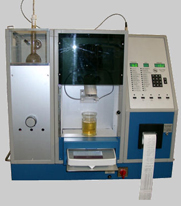 The HAAGE distillation analyzer DA 30.15 W is a reliable analyzer for the determination of the boiling characters of tar products in accordance with the ASTM D20/72. The HAAGE DA 30.15 W may be employed for laboratory use as well as for the optimization of petrochemical refinery processes. The weight of the distillate is continuously and automatically recorded by a built-in electronic scale.
Features
The HAAGE DA 30.15 W operates with a built-in microprocessor controller. Entries of technical parameters are performed on a clearly laid out panel, on which all of the program data can be displayed and verified.
Pre-Programmed Distillation Groups
DG 1 = Distillation without correction of the thermometer bulb (= PT 100 temperature)
DG 2 = Distillation with correction of the thermometer bulb (in accordance with the thermometer type STPTC-T4D)
Equipment and Accessories:
Distillation piston 125 ml
3 Ceran heat plates Ø 50 mm
Cooling with mechanical refrigeration unit
Resistance thermometers Pt 100, with cable and plug
Stainless steel recipient 300 ml
Condensation pipe wiper
Technical specifications
Sample weight
99.9 g
Dimensions
width: 790 mm, depth: 660 mm, height: 860 mm
Weight
approx. 76.5 kg
Connection voltage
~ 235 V AC, 50 ~ 60 Hz, ± 10%
Operating voltage
220 V DC
Power supply
approx. 3.6 kW
All rights to technical modifications reserved