HAAGE Distillation Analyzer DA 40.10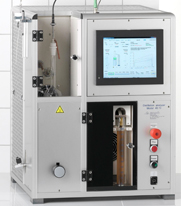 The HAAGE distillation analyzer DA 40.10 uses a microprocessor control and an integrated industrial MS Windows © 7 PC. The equipment is pre-programmed with all the necessary distillation parameters for each boiling group. Several individual units can be connected to the central PC, if so desired. Details about all relevant distillation processes are saved on the built-in PC or through external storage devices.
This distillation analyzer meets the following standards for the distillation of products, solvents, and crude oil:
ASTM D86 Group 0, 1, 2, 3: Distillation of hydrocarbons up to zu 300°C FBP, all sorts of gasoline, jet fuels, engine oils, and more
ASTM D86 Group 4: Distillation of diesel fuels, gas oil, fuel oils, heavy oil products, etc., up to 450°C FBP
ASTM D1078 Group solvents (visual - manual dry point determination)
ASTM D1078 Group solvents (automatic dry point determination)
ASTM D1078 Group 7 und 8 (modified dry point determination)
ASTM D285 (modified), Group 6: Distillation of crude oil
Output range
Calibration
automatic for temperatures and volumes
Dry point
determined automatically for solvents, PT100, 200 ml pistons, accessories
Sample volume
100 ml, 200 ml
Accuracy
+/- 0.1 ml volume, +/- 0.01°C temperature
Boiling point
0 – 450°C
Technical specifications
Connection voltage
110 ~ 235 V AC, 50 ~ 60 Hz, ± 10% (wide-range input)
Operating voltage
24 V DC
Power supply
ca. 2.0 kW
Dimensions
width: 515 mm, depth: 500 mm, height: 670 mm
Weight
ca. 56.0 kg
Equipment and accessories
Industrial PC with Windows © 7
Display 10.4'' TFT color-LCD touch-screen
Distillation piston 125 ml, 200 ml
Ceran heat plates 32 mm, 38 mm, 50 mm
Follow-up control with stepping motor
Eco-friendly Peltier-elements for heating and cooling
Resistance thermometers Pt 100, with cable and plug
Scaled measuring cylinder with disposable stainless steel base
Condensation pipe wiper
All rights to technical modifications reserved.