Gas Supply Systems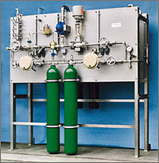 Designed for a continuous gas supply, as well as the mixing or transportation of gases in laboratories or production facilities, Estanit produces complete gas supply systems. Gas is supplied either from individual gas cylinders, bundles of cylinders or liquid gas tanks. The gas supply systems can be equipped with measuring and control technologies for automatic or semi-automatic operation.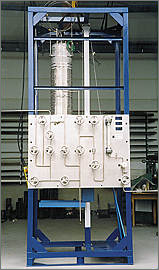 Equipment
Depending on the requirements for corrosive gases, industrial gases and special gases, our gas supply systems can be equipped with: pressure regulators, sampling locations, sampling location pressure regulators, expansion stations, pneumatic pressure regulators, control pressure regulator, contact manometer, purge blocks, valves and accessories
The advantages of a Central Gas Supply
With Estanit's gas supply systems, compressed-gas tanks can be stored outside of workspace. Expansion stations and sampling locations, however, can be located at the points of consumption. The central gas supply increases safety, reduces costs and increases the quality of all employed processes.
All rights to technical modifications reserved.