HAAGE Diffusers
Mixture and quantity distribution of pulp suspension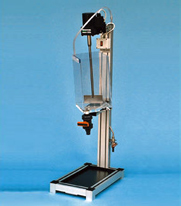 The HAAGE Diffusers are specifically designed for the mixing and distribution of pulp suspension for the freeness testing as well as the manufacture of test sheets in laboratory sheet formers of the paper industry.
The diffuser is similar in design to the provisions of the standard method of leaflet V/6/6I of the Association of Pulp and Paper Chemists and Engineers.

Functional description
The main components are the acrylic glass mixing container with a graduated scale mounted to the base structure as well as the the electric drive with an agitator and a double-bladed stirrer. Compliant with the leaflet, the container is mounted so that the front bottom corner is inclined at about 10 °. In this lowest corner is located a robust ball valve made ​​of sturdy plastic for draining. The agitator shaft with a stirrer is located in the geometrical axis of the container and is driven by the motor at about 150 rpm.
Technical parameters
Connection
230 V AC, 50 Hz
Measurements
approx. 18 (w) x 18 (h) x 36 (d) cm
Weight
approx. 40 kg
Rpm
150
All rights to technical modifications reserved.