HAAGE Disintegrator
Defibration of wood pulps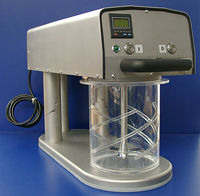 HAAGE Disintegrators serve the purpose of defibrating pulp for analyses in laboratories of the paper industry and preparing test sheets in the HAAGE Sheet Formers.
HAAGE Disintegrators complies with the leaflet V/4/61 of the Association of Pulp and Paper Chemists and Engineers as well as ISO 5263.
Functional Description
The disintegrator consists of an elegant stainless steel standing frame, a built-in premium motorized unit, a shaft, a three-blade propeller and a round acrylic container (optionally a metal container) for the reception of pulp suspension.
In the inner surface of the side wall of the container four spiral square ribs are located, which extend over half the periphery of the container as according to the norms. The transparent container allows visual inspection of the serving suspension during operations. It can be inserted or removed easily. The propeller runs in the geometrical axis of the charge container and corresponds, as well as the other components, the standard dimensions.
Technical Parameters
Connection
230 V AC, 50 Hz
Dimensions
approx. 30 (w) x 91 (h) x 50 (d) cm
Weight
approx. 40 kg
Structure and properties
Easy to clean by simply hosing the base plate
Quiet, powerful drive with low voltage motor
Programmable total number of rotations or time
Two-line display
Display for the running total number of rotations
START / STOP button and additional button for interruption,
Optical operating display
Disintegrator container made ​​of acrylic glass (3 liters capacity), with glued-in ribs
Safety function - device only works when container is inserted
Combined disintegrators and diffusers
Combined laboratory pulp-disintegrator (corresponding to no current standards) to be placed on a laboratory table, alignable to the circular level using leveling feet.
Device with acrylic top, 180 x 180 mm bottom surface, 10 ltr. content, and installed ball valve with hand lever.
The drive shaft with trilobal propeller is inserted above the bottom surface of the container and is driven by a direct current motor with two fixed speeds.
| | |
| --- | --- |
| Pre-selected speed for disintegrating: | 3,000 r/min |
| Pre-selected speed for diffusing: | 1,000 r/min |
A manually operated ball valve with a connection nozzle for the water supply pipe is connected to a supply line to fill the container.
Appliance case, cabinet, main components and drive shaft are made ​​of stainless steel.
Device connection and electrical control are in a separate box flanged on the unit.
The control box comes with with an on/off switch, a power indicator, a rotation speed - dial (1,000 - 0 - 3000 rpm), and a separate "emergency" switch.
Technical Dates
Acrylic container
180 x 180 x 380 mm
Capacity
10 ltr.
Motor drive
250 Watt, 24 Volt direct current
Device connection
230 Volt, 50 / 60 Hz
Weight
33,0 kg
Dimensions
ca. 350 (w) x 320 (d) x 740 (h) mm
All rights to technical modifications reserved.