HAAGE Shaking Autoclave
Due to its variety of options, the HAAGE shaking autoclave is the technical and economical solution for applications in medicine, pharmacy, and chemistry laboratories.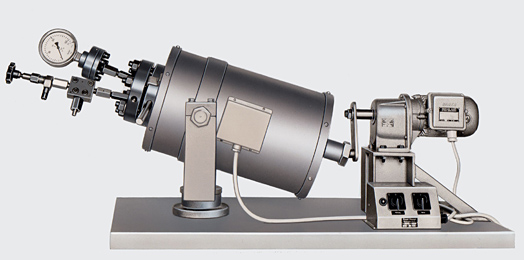 Its biaxial movements provide for a thorough mixing of liquids, solids and gases. HAAGE shaking autoclaves are used wherever autoclaves with stirring systems cannot be used, may it be for structural or procedural reasons.
Technical Specifications
Material
hochlegierter Stahl, Hastelloy, Nickel, Monel, Inconel, Incolloy, Titan, etc
Volume
0.15 - 20 liter
Pressure range
50 – 1.000 bar (DIN 2401)
Temperature range
up to 500 °C (subzero temperatures only as special edition)
Possibility of operating under positive pressure as well as in vacuum.
Dimensions
Volume

Liter

0,25

0,5

1

2

3

5

10

20

Inner- Ø

mm

40

50

60

80

100

110

150

175

Inside Depth

mm

215

265

380

435

415

560

880

900

larger units available upon request
Basic Equipment
Electric gear motor 40-50 Upm
Screw top or flange screw
Gas inlet valve with immersion tube
Gas outlet valve
Pressure gauge
Thermometer well for the measurement of the inside temperature (measurement of temperature using a thermocouple)
Drill-hole for the measurement of the wall temperature (measurement of temperature using a thermocouple)
Rupture disk holder, including 10 replacement rupture discs
Options:
Lining with non-ferrous metals
Capillaries for gas feed following the autoclave's movement
Reflux condenser to sample gas
All rights to technical modifications reserved